WhoIsHostingThis.com: Our Flagship Site
Our flagship website is WhoIsHostingThis.com, a buyer's guide to web hosting.
We've published 1+ million words of real user reviews of web hosting brands, as well as guides on everything from how to start a blog to how to disappear online.
The History of WhoIsHostingThis.com
WIHT was launched in the summer of 2007, by Stan Schroeder and Gordan Orlic. It was a one page tool that let users find the web host a website was using. The design was basic – but the site really took off. It looked like this:-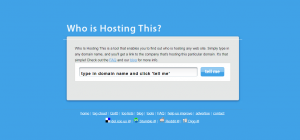 We noticed the tool's soaring popularity and untapped potential, and acquired the site in summer of 2008, and started working hard to offer more value to our growing number of visitors.
We added reviews of major web hosting brands, coupons, a webmaster forum (since retired), and a blog during the site's first major redesign.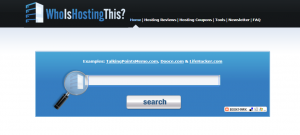 In 2010, the site transformed again:-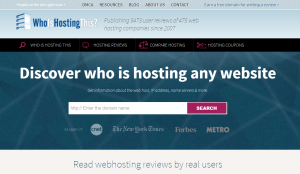 Since then, we've continued to listen to user feedback as the site evolves, but the core functionality has remained very similar.
After many tweaks to the site, we arrived at the site as it is today in 2018.

Here are some of our most popular pages:

WhoIsHostingThis provides advanced features that allow visitors to find the perfect host for them.
This starts with categorising hosts and designing a filtering tool.

Visitors can narrow down hosts by:
Specialist features (eg, green hosting, podcast hosting)
Supported content management systems (eg, WordPress, Drupal, etc.)
Payment options
Disk space and bandwidth
Easy installs of over 70 platforms, like Drupal and Moodle
Operating systems, like Linux, Windows, Debian, Ubuntu, and Red Hat
Control Panels, like cPanel, Plesk, DirectAdmin and OpenVZ
Support for scripting and languages (30 options to use as filters)
Server location
Need a host that offers Tomcat JSP in Europe that, supports Django or accepts bitcoin payments? We got you covered.
We also offer other free webmaster tools:
Press Coverage

Over the years, WIHT has been mentioned in a wide variety of publications, including online, print, and radio.
Here is a brief list of press that have covered WIHT that we're most proud of.
| | |
| --- | --- |
| WordPress | Daily Mail |
| NBC | Metro (UK and Sweden) |
| Forbes | New York Times |
| Business Insider | neilpatel.com |
| TechCrunch | Entrepreneur.com |
| Huffington Post | VentureBeat |
| LifeHacker | LifeHack.org |
| MediaBistro | BusinessIntelligence.com |
| ProBlogger | BGR.com |
| Time Magazine | MakeUseOf.com |
A Remote Team of Experts
Almost all of our team run their own websites, and many of our writers and editors code, too. We're always looking for new talent to work for through remote jobs page.
Partnership Inquiries
We're happy to hear from our users, press or potential partners. You can get in touch with the team through the contact page on www.WhoIsHostingThis.com.