The 7 Secrets of SEO Success
NB. To ensure full Web 2.0 compliance, this graph is pointlessly interactive (ie, click the slices).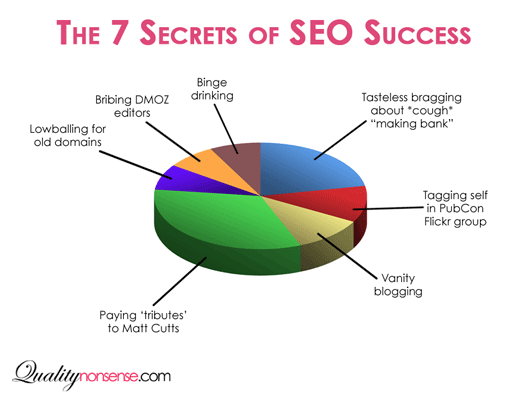 Paying 'tributes' to Matt Cutts. Cuttlet fanboys – you are on watch.
Lowballing for old domains. Google's domain trust is way out of whack.
Bribing DMOZ editors. Or paying their extortion demands.
Binge drinking. Drinkbait is the new linkbait. You heard it here last.
Tasteless bragging about "making bank". I blame the Miami Vice revival and The Apprentice.
Tagging self in PubCon Flickr group. I cannot bring myself to name names.
Vanity blogging. Question: How does a successful self-publicist internet entrepreneur find time to read every blog post about himself?